Hey dolls !
Sorry for the lack of updates, we hope you girls are feeling super this week ;)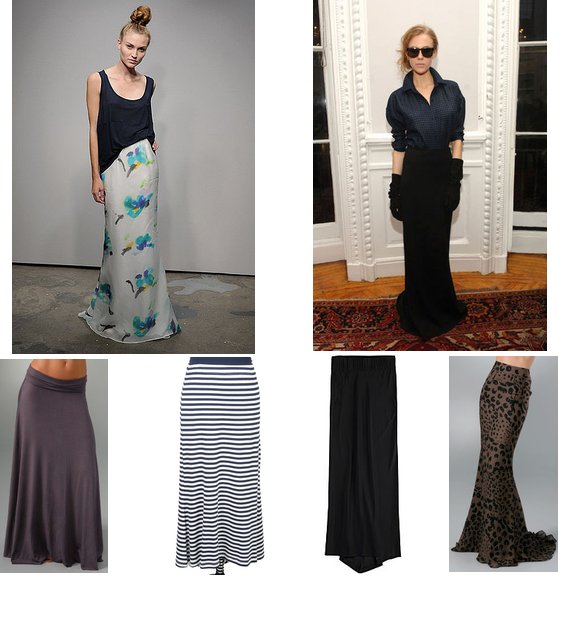 What does all of the photos above have in common ?
Maxi Jupes, or, formally known as maxi skirts..
Now, we know maxi skirts are the in thing nowadays(spotted on various fashion bloggers & also on various fashion shows) & we've been bringing in the infamous skirts since May '10 but personally, we've always been major fans of the skirts. Maybe its cause of the never ending length of the flowing fabric draped over the legs, or the sexy slit at the side for alil mysterious peek ;) Oh, or maybe it's just so versatile that you can throw it on with a simple tee or tank with a kickass leather jacket & a vintage belt to cinch the waist to give it a cool understated look like Nicole Ritchie has shown us above :)
So, guess what we have for you in store today ? We got new colours for the maxi skirts! It's definitely something different compared to the line of black skirts that we normally have. We're thinking of bringing a variety of various fabrics on additions to our plain ones. Let us know what you think, we would love to hear your feedback.
This time, we have it in

Purple, Terracotta, Army Green

,

Red

&

Grey

& they're all under the cotton jersey category.
Stocks are extremely limited so if you're interested let us know as its all based on first come first serve basis. If the response are good, we will get more stocks cuz maxi skirts are the next best thing to a simple tee, wethinks ;) Not only for Muslim fashionistas but also for our non-Muslim friends :D Grab it while it's hot, dolls !
ARMY GREEN
TERRACOTTA
RED
PURPLE
GREY
Sold over 50+ pieces & still counting.
Available in both Cotton Jersey & Nylon Spandex material
*do note that there's not much difference to both of it 'cept that cotton jersey is has a much softer feel to it compared to the nylon spandex one. However, nylon spandex has better elasticity & it is equipped with lining.
Cotton Jersey - Red, Black & Grey only
For NYLON SPANDEX measurements
:


*the skirt has lining :)



Size S Measurements :
Length : 37 inches
Waist : 12.5 inches ; can stretch up till 20 inches !

Size M measurements :
Length : 39 inches
Waist : 13 inches ; can stretch up till 22 inches !

Waist : 13.5 inches ; can stretch up till 23 inches !
Waist : 14 inches ; can stretch up till 24 inches !
For COTTON JERSEY measurements
:
*free size ; suitable for size S-small L*
Waist : laid flat 12 inches stretch up till 22 inches
Length : 41.5 inches
So, if you're interested just mail us
your name, address, contact & item(s) that you want to :